Questions have been posed about the vesture and usage of Cardinal Deacons (you don't know what I'm talking about when I refer to Cardinal Bishops, Cardinal Priests and Cardinal Deacons, click
here
), so I thought I'd make a few random observations.
Firstly, the new (Paul VI) order of Mass does not allow priests and bishops to vest as deacons for the Mass. This is in contrast to the Mass of Pius V which was frequently celebrated with priests fulfilling the roles of Deacon or Sub-Deacon vested in Dalmatic or Tunicle. To the best of my recollection, in his book '
Ceremonies of the Modern Roman Rite
' the eminently sensible Msgr Peter Eliott sees nothing wrong with a concelebrant fulfilling a quasi-diaconal role (e.g. reading the gospel, dressing the altar, elevating the chalice) provided he is vested as a priest and fulfils a conclebrant's role during the Eucharistic prayer.
(I think one notable exception to this rule was the funeral of Paul VI in August 1978. Apparantly no deacon could be found [this was before the introduction of the permanent diaconate in Rome, I think] and a young priest from the North American College was permitted to be deacon for the funeral Mass vested in a dalmatic. (Can any of my readers confirm this? I think I may have read it in
The Church Visible
.)
Needless to say, the Pope is Supreme Legislator in liturgical matters and it would just take his say-so for liturgical law to permit a Cardinal Deacon to vest and act as deacon at a Papal Mass. (
This would, of course, infuriate all the 'real' deacons who study here in Rome for whom the opportunity of serving as deacon to the Pope is a great honour
)
To the best of my knowledge, the only time that the Holy Father is ever flanked by Cardinal Deacons in dalmatics these days is the
Vatican Good Friday liturgy
.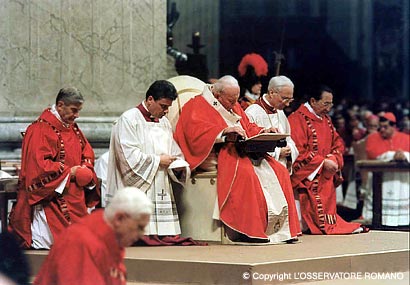 Good Friday 2004 - The Late Holy Father flanked by MCs and two Cardinal Deacons - note the red skull-caps and dalmatics. The black haired Cardinal Deacon is Cardinal Herranz. The name of the grey-haired Cardinal Decaon escapes me. Note that the actual functions of Deacon for the ceremony were fulfilled by deacons. The Cardinal Deacons merely escorted the Holy Father.
Edited to add:
I knew I'd seen Cardinal Deacons in Dalmatics elsewhere! The Christmas Urbi et Orbi!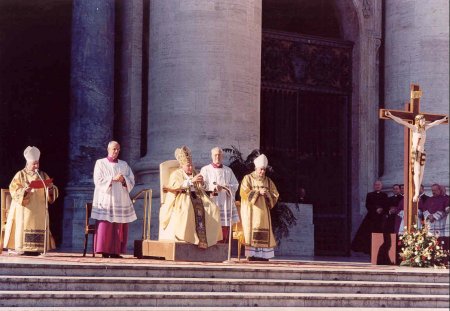 The late Holy Father with MCs, and bemitred Cardinal Deacons in dalmatics. Christmas 2003