Today's another one of those liturgical oddities here in Rome - Italy celebrates Corpus Christi on Sunday, but in the Vatican it falls in the Thursday. So, this morning I have been celebrating the Feast of St Philip Neri and this evening I will be at the
Holy Father's Corpus Christi Mass and Procession
. The linked site will allow you to watch this wonderful event - after the Mass outside S. Giovanni in Laterano, the Blessed Sacrament will be carried in procession by the Pope along the Via Merulana to the Piazza in from of the basilica of S.Maria Maggiore. There he will perform the beautiful rite of Benediction. Last year
I blogged before the procession
and linked to photos of previous processions. Last year's Mass and Procession can be seen
here
.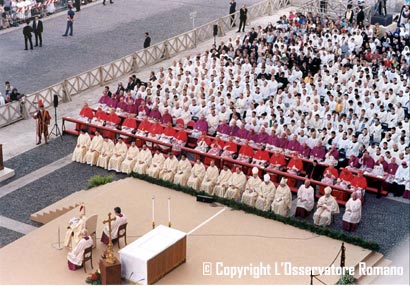 I also blogged after the procession because the late Holy Father
announced the Year of the Eucharist
.
St Philip Neri
The
Apostle of Rome
and one of my favourites. Today is one of the few opportunities to visit his rooms at the
Chiesa Nuova
.
In the News
RIP
Ismail Merchant
- one half of the Merchant-Ivory film-making duo. (Times obituary
here
)
An article about the
increasing role of the laity
in the parishes of the English Primatial See of Westminster.